Proteon's bacteriophage poultry products focus on preventing and reducing the impact of bacterial infections in flocks caused by Salmonella and Avian Pathogenic E. coli (APEC). They enhance immune performance, providing better economic outcomes through healthier animals.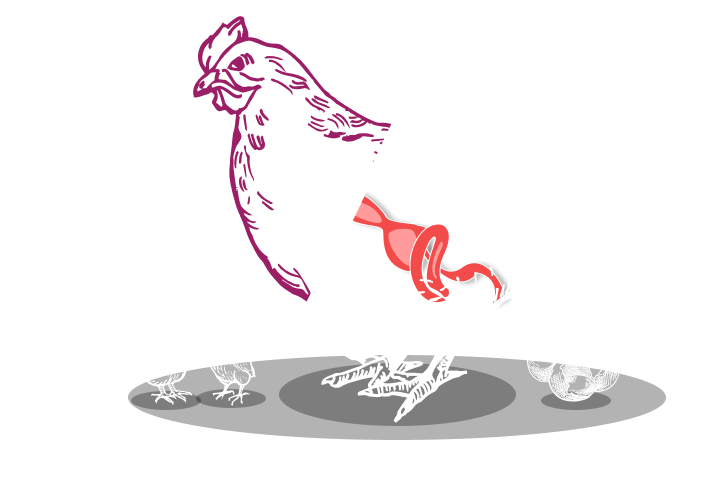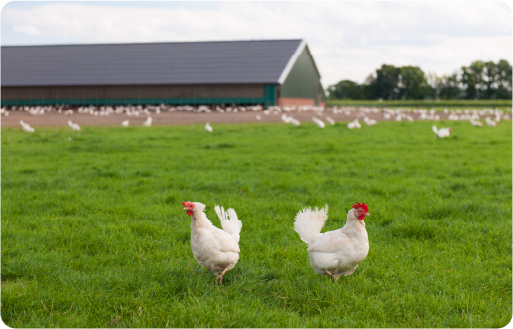 Poultry farming is a form of animal husbandry which raises domesticated birds such as chickens, ducks, turkeys and geese to produce meat or eggs. It has been a feature of human society for thousands of years. Among poultry species, chicken is the main breeding area around the world and, according to estimates, represents more than 90% of the poultry sector. Chickens raised for eggs are called layers, while chicken raised for meat known as broilers. Poultry production involves several stages prior to reaching end consumers. The stages include rearing of birds from hatch to peak performance and the subsequent harvesting and processing of eggs and broilers.
The poultry market is positioned as one of the most important sectors globally due to its impact on food security and a leading position in international markets. It has grown significantly in the last decade, increasing from 94 million tons in 2009 to 131 million tons by 2019, what makes a 39% growth within just 10 years. China, the US, Brazil, South Africa, and Mexico are thought to have the largest share of production growth in 2020.
According to FAO data, total egg production in the world reached 1.577 billion in 2019. The largest share belongs to Asian countries – almost 64% of total production. China is the biggest producer of eggs on a global scale.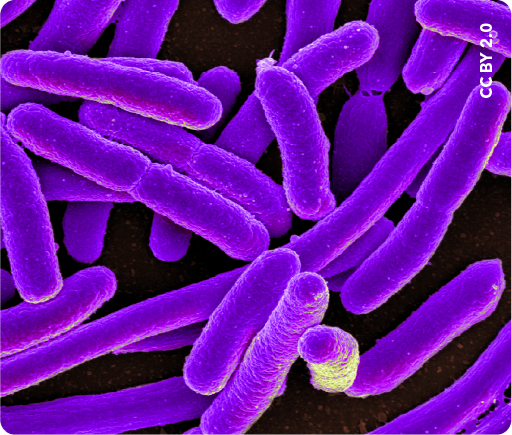 Poultry immunity, health and production are some of the factors that will challenge the future growth of the industry. Many foodborne and zoonotic diseases, emerging and re-emerging worldwide, are strictly linked with poultry farming. A foodborne disease outbreak is an incident during which at least two people contract the same illness from the same contaminated food or drink. Developing strategies to eliminate and control foodborne pathogens, while tackling the public health hazards linked to consuming foods with high antibiotic residues and the threat of antimicrobial resistance, remains as critical challenges for the industry.
Colibacillosis is the most common bacterial disease in poultry and it is caused by Avian Pathogenic Escherichia coli (APEC). It can be present among poultry of all ages. APEC is opportunistic in nature and it can grow rapidly in stress conditions. Initial exposure to APEC might occur in the hatchery from infected or contaminated eggs, however infections are commonly triggered by immunosuppressive diseases such as Infectious Bursal Disease, Marek's Disease, or Chicken Anemia. Colibacillosis is a major cause of morbidity, mortality, and economic loss for all types of poultry worldwide.
The other one of the most common bacteria on poultry farms is Salmonella, which is pathogenic to both poultry and humans. Although the target habitat of Salmonella is the gastrointestinal tract, it is widely present in nature and makes a major microbial hazard in animal feed, as it can persist for long periods of time. Bacteria belonging to the Salmonella genus are responsible for a variety of acute and chronic diseases in poultry. Moreover, poultry flocks infected with this pathogen are the main zoonotic reservoir which can transmit infection through the food chain to humans, thus posing a serious health problem as well. Potential symptoms of Salmonella presence in birds are: drowsiness, huddling together, poor growth, chalky white diarrhea, dehydration, reduced egg production, increased mortality. Salmonella symptoms, especially at subclinical level, can go unnoticed and not recognized as caused by Salmonella bacteria, while the bird's body is using its vital resources to fight off the bacteria instead of utilizing them for growth and productivity. This bacteria causes significant disturbances in chicken gut and it weakens overall bird health.
Salmonella is the most reported cause of foodborne outbreaks in the European Union – nearly one in three foodborne outbreaks in the EU in 2018 were caused by this bacteria. This is one of the main findings of the annual report on trends and sources of zoonoses published by the European Food Safety Authority (EFSA) and the European Centre for Disease Prevention and Control (ECDC). In 2020, EU Member States reported 3 166 foodborne outbreaks affecting 22 010 people. Over 56% of the outbreaks were linked to Salmonella.
In the United States, The Centre for Disease Control and Prevention (CDC) has cited about 1.35 million Salmonella infection cases and approximately 420 deaths in the United States every year.
How Proteon can help you contribute to solving the challenges
Bacteriophage cocktails effective against pathogenic bacteria
Our poultry products, BAFASAL®, BAFASAL+G® and BAFACOL®, focus on preventing and reducing the impact of bacterial infections in poultry flocks caused by Salmonella and Avian Pathogenic E. coli (APEC). They enhance immune performance, providing farmers with better economic outcomes through healthier animals. It helps to eliminate the need for antibiotics and promotes sustainable agriculture.
Proteon is constantly working on alternative products formats (i.e. in feed application) and solutions targeting other common bacterial diseases.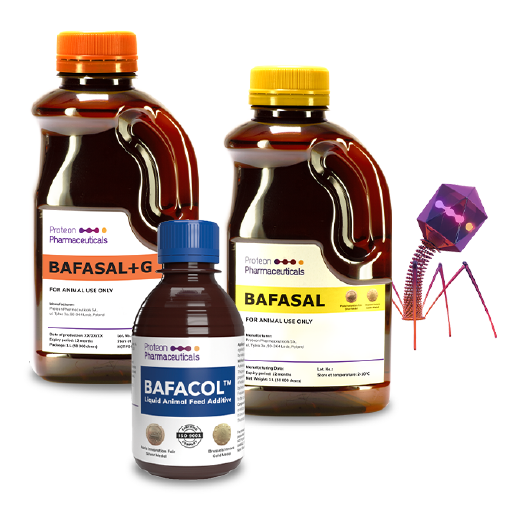 Join Hands With Us! Find Us Here
Headquarters & Legal Address:
UI. Tylna 3a 90-364 Lodz, Poland
Commercial Office Address
LIM Center 18th Floor AI. Jerfozolimskie 65/79, 00-697 Warsaw, poland
VETPHAGE PHARMACEUTICALS PRIVATE LIMITED A-310, Western Edge II, Behind Metro Mall,Western Express Highway, Borivali East, Mumbai, Maharashtra, India. 400 066
Global poultry market dynamics and current trends,
Veterinaria Digital:
Available Here
Poultry Development Review,
Food and Agriculture Organization of the United Nations:
Available Here
Poultry species,
Food and Agriculture Organization of the United Nations:
Available Here
Salmonella,
Centers for Disease Control and Prevention:
Available Here
Salmonella the most common cause of foodborne outbreaks in the European Union,
European Centre for Disease Prevention and Control:
Available Here
Proteon Pharmaceuticals Internal Researches