BAFASAL® – a bacteriophage-based feed additive that increases food safety and enhances performance.
Ingredients: Lytic Bacteriophages Concentrate 10⁸ PFU
Net Quantity : 1L
Manufacturer: Proteon Pharmaceuticals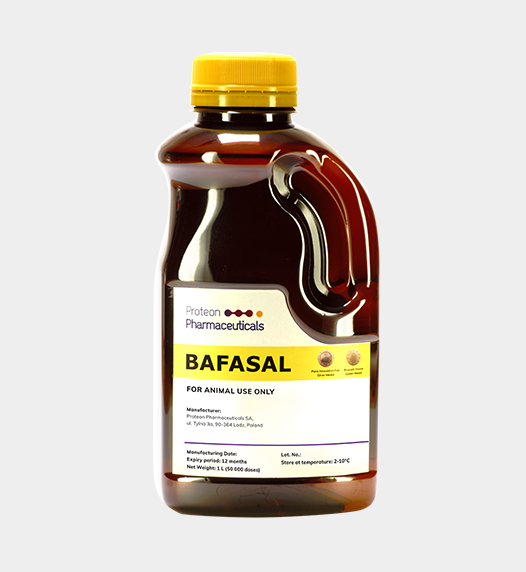 Effective against Salmonella Typhimurium and Salmonella Enteritidis.

Improves gut health.

Natural and non GMO, i.e., no genetic engineering used nor the product is derived from genetically modified organisms.

No side effects.

Easy application (water/feed additive).

Effective on all types of birds in poultry: layers, broilers and breeders.

Prevents and eliminates Salmonella without causing side effects.
Can be used at any stage of a bird's life. It is recommended to start using it from day 1 of the bird's life as they are more susceptible to Salmonella at that time.
When adding to water, the pH of water should be in between 5 and 8 else, it can be added to feed.
Add 1 L of BAFASAL® for 75,000 birds and continue to apply every other day for 2 to 6 weeks or throughout the bird's life cycle.
Add 1 L of BAFASAL® and apply every other day for 3 weeks followed by a break of 3 weeks and repeat throughout the birds' life cycle.
BAFASAL+G ® should be stored in the temperature range of 2°C to 10°C and away from sunlight for its stability and shelf life for up to 2 years. Once the packaging is opened, the product should be used within 96 hours and stored in a cool place between applications.
* For safety assessment, 100 times of the recommended dose was given to broilers throughout its 38 days cycle. No side effects or changes in health, blood morphology or biochemistry were found. To assess the toxicity, 1000 times the recommended dose was administered and no issues were found.
BAFASAL® is for all the birds in a poultry farm, be it layers, broilers or breeders. It can be administered to birds irrespective of their being infected or not being infected by Salmonella.
Learn more about our other products
The right solution one click away!
Proteon Pharmaceuticals proprietary Phage Development Platform contains world class tools and processes.