Bacteriophage based feed additive cocktail for Aquaculture.
Ingredients: 5 Lytic Bacteriophages Concentrate 10⁸ PFU
Net Quantity: 1 L
Manufacturer: Proteon Pharmaceuticals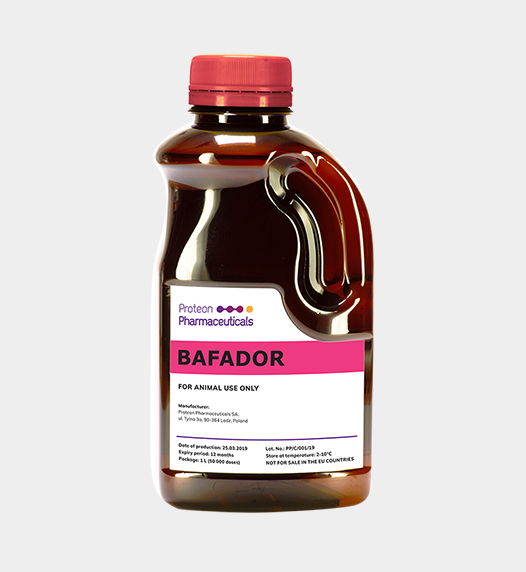 Proven to be effective against Aeromonas spp and Pseudomonas spp.

Encourages healthy growth and development in fish.

Adds to water stability.

Additive supplement for food or water bath.

Can be used for any type of fish farming system and breed.

Made from all-natural products.

Easy to use.
Can be mixed with commercial feed in the following ratio:
1 litre of BAFADOR ® per 5 tons of small fish (under 100g per fish).
Can be used for water-bath:
I litre of the product in 1000 litres of water.
To ensure product stability and longevity, store in a temperature range of 2°C to 10°C.
The product can be used for all types of fish species that are produced in different types of production system.
*   Feeding system largely depends on production system being followed and the species of fish being cultivated.
*   The product is an additive supplement and it should not, by any means, replace the existing diet for the fish.
Learn more about our other products
The right solution one click away!
Proteon Pharmaceuticals proprietary Phage Development Platform contains world class tools and processes.